S&P Analysis: Global Private Equity Entries Slip in August Amid Inflation, Valuation Concerns
Guest Post
Private equity and venture capital deal value worldwide dropped in August as investors remained cautious about inflation and asset valuations, according to the latest S&P Global Market Intelligence data and analysis. 
Global private equity entries in August dipped 45.8% to $42.23 billion from $77.95 billion in the same month a year ago.
Q2 2022 hedge fund letters, conferences and more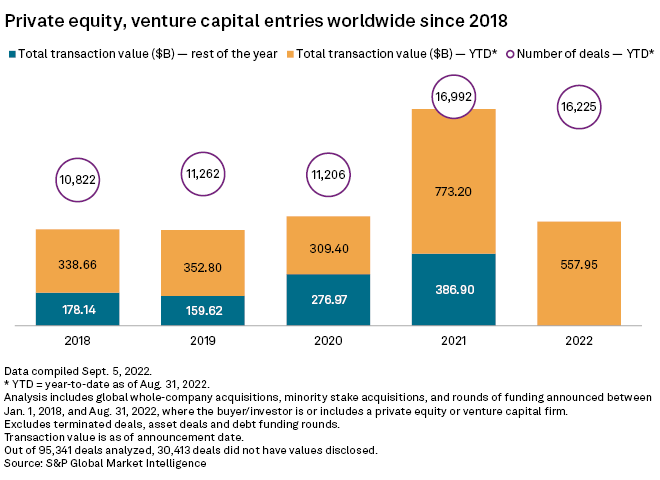 Key highlights from the analysis include:
Announced deals during the month declined 28.5% to 1,441 from 2,015 transactions a year ago.
Total deal value year to date was $557.95 billion, down 27.8% year over year. The number of transactions slid 4.5% to 16,225. Yet the number and value of deals in 2022 are still strong compared to years preceding 2021, which was a record year for private equity activity.
The U.S. and Canada booked the largest amount of entry value totaling $25.89 billion across 511 transactions. In terms of number of deals, Asia-Pacific led in August with 567 transactions worth a total of $10.98 billion.
The technology, media and telecommunications sector continued to attract the most capital from private equity and venture capital firms during the month with $21.33 billion in total transaction value, although it was lower than $29.59 billion seen in the same month a year ago.